Schools of Sandwich South
General Township School Information
General information regarding trustees, school board and education reports for the township.
SS #2 began as SS # 13 of Sandwich East in 1881 and was built on the farm of James MacKenzie.  It was a modest wood frame building that didn't receive the luxury of indoor toilets until 1931.  Electricity didn't come until 1940.
Attendance had risen to 55 students by 1955 which was beyond capacity of the one room school.  A new school was built and remained open until 1970.  The 'new' school building still stands and operates as a church.
School Section#4 began as a frame structure and was built sometime between1865 and 1870 at the end of the town line road between Anderdon and Sandwich South townships. In 1894, a brick school was built to replace the old one.
  In 1959, the children were moved into the new school located on the Anderdon townline between Howard and Walker. The school was closed for good in 1970.
SS # 5 opened in 1891 at the corner of South Talbot road and Malden road on land donated by the Gzowsky family.  In 1914 a brick building was raised to replace the first school which had been blown down in a windstorm.
In 1958, a two room brick school was built kitty corner from the original school on land purchased from Charles Collins.  The old school was then used for the Sun Parlor school for children with special needs.
SS # 6 was built in the late 1880's on highway # 3 and Herdman side road on land donated by Ed Burke.  It was replaced by a brick building in 1916 with an addition added in 1929.
A new brick school was built in 1960 on land purchased from William Burke. The school closed in 1970 when Sectional Schools were phased out by the school board.
RSS # 7 - St. Mary's (Ragtown)
The original St. Mary's, or 'Ragtown', school was built in the 1870's as a log structure on the corner of Highway 3 and Sexton side road. A wood frame school replaces this in 1901 with an addition constructed in 1919.
The new St. Mary's school with 2 classrooms was built in Maidstone in 196o.  The name of the old School was changed to St. Malachy until it was closed in 1963 when St. Mary's expanded to 7 classrooms plus a playroom.
RSS # 8 - St. Joseph's (Six Corners)
This Catholic school was built in 1901 at the intersections of Malden Road, Highway 98, and North Talbot road. It was a one room school which housed all grades.  Children from Sandwich South and Maidstone township attended this school.
It was expanded in 1956 but closed in 1963 when the new St. Mary's school opened down the road.
SS #10 opened as a one room school in 1923 on the corner of the the 9th concession and Essex Town Line (County Road 8). It was built on land purchased from the Maumee Ohio Land Company.
In 1970 this was the only one room school remaining in Sandwich South. It was also the final year of the school.  It is now a private residence when some of the school features still visible.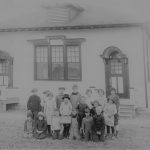 Frith public school was a 'new' sectional school added to the township in 1960.  It was a two room brick school built on North Talbot road in front of what is now the Ciociaro Club. This school lasted about 10 years as it was phased out in 1970 with the rest of the SS schools.
The school building received new life as the Sandwich South town hall from the early 70's until the township was disbanded in 1999.
Construction began on the new two room St. Mary's school in 1960 with students from grades 5-8 holding class in the church hall until the school was ready.  In 1963 it was expanded to an 8 room school.  An additional 3 classrooms plus a gymnasium were added by 1968.
This became a regional school causing the closing of many of the sectional schools in the township. A contest was held in 1976 for the naming of the school's sports teams.  Darren Riberdy won the contest with the name St. Mary's Blue Knights.  The name was later shortened to St. Mary's Knights.
St. Mary's is currently operating as a french immersion school with students bussing in from around the county.
The original one room wood school known as U.R.C.S.S # 2 on County Road 42 near Lesperance Road in 1904.  It was a bilingual school also know as Ecole Ste. Pierre.  An new room was added in the 1920's for grades 5 -8.  This building was condemned as a fire hazard in 1960 and closed soon after.
The current St. Peter school began as a four room school in 1961.  In 1973 a gymnasium was added along with four more classrooms and a library.
Roseland school is in Sandwich East township but many students were from Sandwich South.  It began in the 1914 as a two room school and many additions were made over the years.
In 1963, a new catholic school in Roseland was built and called SS #20.  The school was renamed St. Jude when the city of Windsor annexed the Roseland community in 1966.
The Sunparlour school for children with special needs was opened in 1959 with four students.  It was the first rural school of its kind in Ontario.  It was located in close proximity to the Charles Collins school.  As the number of students increased over the years, a new school was built behind Essex High School.
WARNING: These documents were written decades ago and use terminology when referring to children with special needs that is no longer deemed appropriate.